The Tunturi R35 Competence Rower – Quality, Smooth Performance
The Tunturi R35 Competence rower has a magnetic flywheel with a manually adjustable resistance system.
The Rower
The battery-operated 5.5" LCD display window shows time, distance, strokes, 500m split time, energy consumption, and heart rate. It comes with three training modes including Quick Start, Manual, and HR min/max limits.
The specs on the Tunturi R35 rower are:
Frame Length/(Seat) Height: 78" x 20"
Machine Weight: 95 pounds
18 lbs Rotating Mass
Double gliding rails
Wide Soft Seat
Wireless Heart Rate Monitoring
Maximum User Weight – 300 lbs
Transport Wheels, folding frame
Warranty: lifetime frame, 2 yrs parts
Compare Tunturi Rowing Machines at Tunturi.com
The Buzz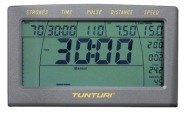 The Tunturi R35 Competence rower uses an adjustable magnetic braking system to provide tension for the stroke. The resistance system is simple to adjust manually using the rotary wheel on the frame. This variable resistance is ideal for users in any physical condition but is geared more towards beginners.
The wide padded seat slides on twin rails which makes it stable enough for users weighing up to 300 pounds. The integrated swiveling footrests offer comfortable positioning while exercising, and the display is compatible with a heart rate monitoring chest strap (not included).
The Tunturi R35 gets many positive reviews for its overall quality and smooth performance. It is similar to the R30 rower but has the updated frame that is also found on the R60. The rower folds up to save space and includes transport wheels for easy movement.
What We Say
The Tunturi R35 Competence rower from Finland is a nice seller in Europe but it not as widely available or well known in North America. It offers an ergonomic and functional design on a sturdy frame, and is made by a company known for its quality products.
Since it is more difficult to find the R35 in the U.S., you might want to go with a German Kettler if you want a European brand, or check out the magnetic rowers from LifeCore that start around $699.
Show me other Tunturi Rowing Machines