Tunturi Rowing Machines – Over Priced Compared to Competitors

While the line of Tunturi rowing machines is stable and robust, there are better deals available from competitors who dominate the North American market.
About the Company
Founded in 1922 in Turku, Finland, by the Harkke brothers, Tunturi began as a small bicycle repair shop. The brothers eventually began to make cycles adopting the brand name Tunturi, which is Finnish for "Highland." After another successful launch of mopeds in the 1950s, the company branched out to make fitness equipment in the 1970s.
The Accell Group, Europe's largest producer of fitness equipment brands, bought Tunturi Oy Ltd, in 2003. Today, the distinct Scandinavian design of Tunturi's broad range of products are sold in over 40 countries around the world. From rowers to treadmills, crosstrainers, ellipticals, and exercise bikes, the company offers unique designs and lasting quality.
About the Rowers
The lineup has been completely redesigned and upgraded.  Gone are the Tunturi R25, R35 and R60.  In their place you have three brand new models.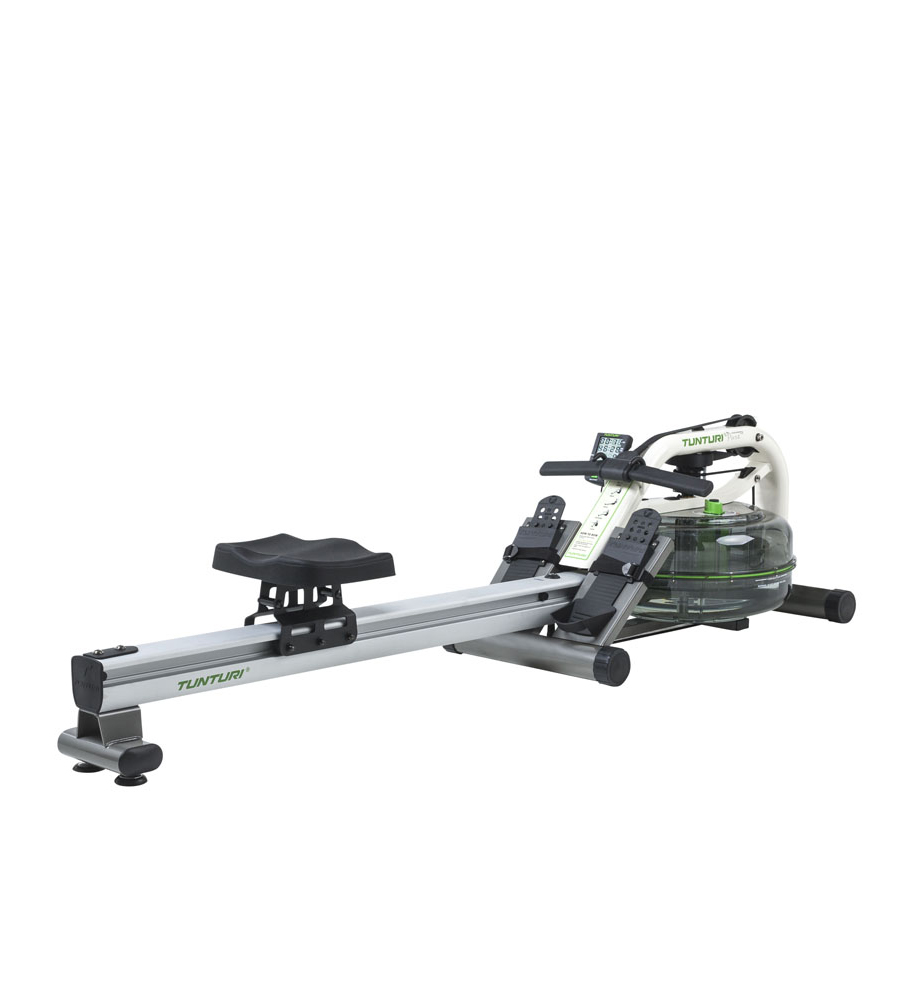 The Pure Row 3.1 indoor rower uses a permanent magnet with manual adjustment. It features an LCD display with 10 workout programs, 16 resistance levels, twin rails and build in wireless heart rate monitoring.
The Pure Row 8.1 is the newest model and uses water resistance to create more of a natural outdoor rowing experience.  It has an LCD display, 4 resistance levels and optional heart rate telemetry.
Compare Tunturi Indoor Rowers at Tunturi.com
The GO Row 30 has a manual braking system with a 17 pound flywheel, 8 resistance levels and 3 programs.  The console is adjustable and it has transport wheels for easily moving and storing.
They Also Make Rowers...
Reviews on Tunturi rowing machines are better than average but this is a European company which struggles to carve out a market for itself in North America for its primary fitness equipment – that is, treadmills and ellipticals. The rowers, which are over-priced compared to competitors, are just another product they make, and you may have some trouble finding an authorized seller for this product in the US.
Overall, there's no reason to buy a Tunturi over well-known brands sold in the US and Canada, especially when product support by a European company may become a concern in a volatile economy.
Tunturi Rowing Machine Model Reviews
Tunturi R25 Competence Rower - Entry level rowing machine for in-home use; slim profile and folding frame.
Tunturi R35 Competence Rower - Offers an ergonomic and functional design on a sturdy frame, made by a company known for its quality products.
---